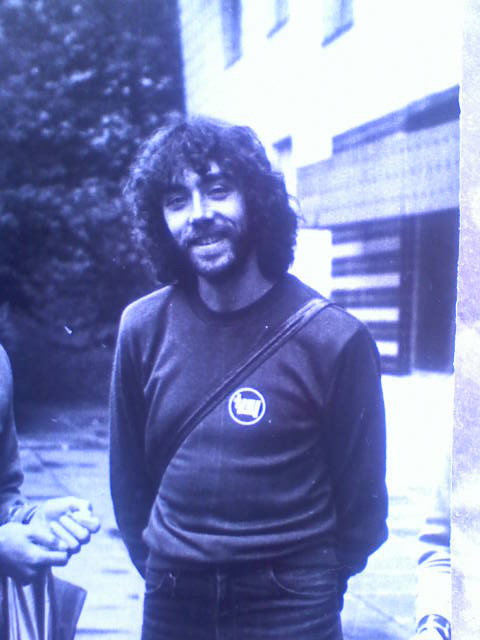 The mastermind behind the Дисплей (Display) band was a Ukrainian composer and multi-instrumentalist Vadim Lashuk from Kiev. Born in 1956 into a musical family (his father was a double bass player in Ukraine's National Opera Orchestra), Vadim already had natural abilities, which, combined with his early training, predisposed him to musicianship as a profession. This led him to enroll at the Glière Music College in Kiev — a very prestige musical institution of that time.
After his graduation at the end of the 70's, Vadim started his musical carrer by making arrangements for ВИА «Кобза» (Kobza) — a prominent nationwide Soviet-Ukrainian supergroup who combined elements of folk, rock, jazz and classic in their repertoire. Besides the arrangements, Vadim was also busy playing bass and guitar in the ensemble.
A year later under unknown circumstances he leaves Кобза and joins the freshly formed fusion-prog-rock band Kрок (Сroc) from Kiev as its bass guitarist. Led by a Kiev jazz-rock veteran Vladimir Khodzitskiy, this was an extremely advanced ensemble of that time, both musically and technically. Its vast and ever-changing roster included not only young & talented but experienced musicians as well, e.g. Ruslan Gorobetz from «Чарівні гітари» or Leonid Bortkevich from ВИА «Песняры».
Croc did exist only for a short while, though — their music, driven by Vadim's funky slapsteel bass lines, was considered too complicated and "avantgarde", therefore "not suitable for the people of Soviet Union" by definition of Ukraine's soviet art council and soon they were banned from the soviet pop scene. Having no more chance to perform live as well as to record, Croc disbanded by the end of 1980. Their studio recordings also did not have any proper release back then, which is a shame indeed — some really creative musical results could be captured for history.
The band did, however, had a feature on a couple of Melodiya's records, released later in 1985: some reminiscence of the Croc's craftmanship can be heard on two LP's by Kiev pop-singer Svetlana Didorenko, with whom they briefly collaborated with. Specifically one of the cooler songs on her second LP — Страх (Fear) was completely written and produced by Vadim Lashuk. Based on a gothic rock vibe and progressing more towards art rock by the end, overall it makes a good debut for the young composer to be released on vinyl.
The story about the Robot song, which we are happy to present today on a 7" vinyl record, dates back to 1981 when Croc musicians split joining different musical formations, and Vadim Lashuk was to set up another fresh project — Ars. Created by a pop procuder Gennadiy Russu, this was mostly a live ensemble initially cruising between Ukrainian cities of Kiev and Ternopil and later succefully playing all around Soviet Union. Its first members were Vadim Lashuk and his fellow musician Sergei Dzubenko from Kiev. Shortly after its inception more talented musicians Victor Vidomenko, Sergei Kshevitskiy and Valeriy Temindarov joined the collective. Some of them were captured on this old archive photo below.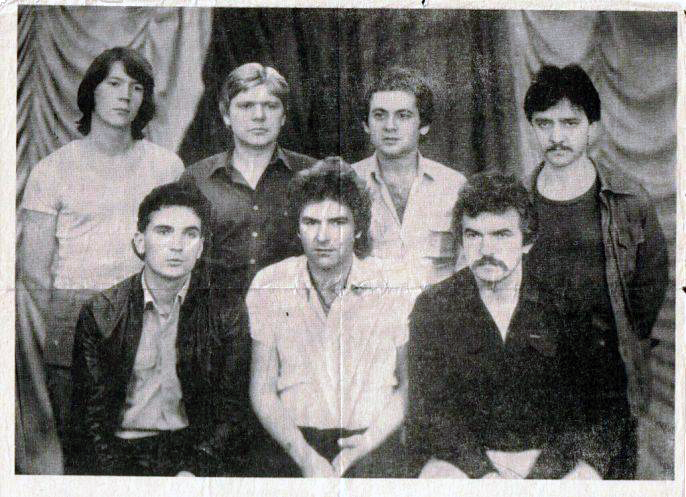 Formally Ars were working as an official live act for Ternopil Regional Philarmonic and were initially named after a local river Zbrutch. Soon it was clear that such traditional folk title was rather incompatible with the funk style the boys were playing, so in 1981 the band decided to change their name to something more abstract and went with the latin word for 'art' thus becoming Ars. Given a wider dergee of artistic freedom this time as well as being supplied with modern equipment for expressing their musical ideas, they could do pretty much whatever they wanted, so Ars went on with playing psychedelic funk and disco. With their music being quite uncommon among other live ensembles, the band quickly got attention from soviet listeners, who were bored with typical tunes of that time and demanded something fresh and not beaten-up. The popularity of Ars skyrocketed that very year and the band got to play not only in Ternopil but even went on multiple tours reaching far east siberian cities of Chelyabinsk, Tjumyen or Magnitogorsk.
Unfortunately Ars had a similar story as Croc: by the end of their short career they were attached as a live performance support to the rising superstar Alexandr Serov, who was already gaining popularity as a soviet number one pop-schlager singer. It was expected that together they will form a stellar collaboration, but it turned into a conflict of interests instead. Serov not only tried to impose his own musical ideas on the band but also had ambitions of becoming their director which did not play quite well with the free spirit of the collective.
Ars dissolved by the middle of 1982, leaving literally nothing recorded behind except one rehearsal in summer of 1982 in Ternopil Philarmonic, dubbed to a cassette. This is where we find a first proto-version of a Robot. Rumors say that it was the band' s most promising pop hit back then. Apparently this song was written for Ars by Vadim Lashuk somehwere in 1982, with lyrics provided by his colleague Anatoliy Matviychuck, a renowned poet and singer from Kiev, who was also involved in this project at some point. When compared to its later 1985 version, produced completely by Vadim Lashuk in his home studio, the funky main tune still stays recognizable but the lyrics (mostly about the powerful, but soulless robot-machine) differ in places. It remains unclear if the lyrics were modified for subsequent version by Matviychuk or Lashuk himself. Rumors also say that back in 1982 some live performances of Robot by Ars were even broadcasted on soviet TV, indicating that this was a hit indeed, but we did not manage to find any footage of this mysterious band.
The following period in the life of Vadim Lashuk, though being a quite fruitful one, leaves more questions than answers due to the scarce and contradictory information available online and offline. In 1983 he creates another project of his own called Фаворит (Favorite), and we know literally nothing about it. A year later he moves to Moscow and instantly becomes a director of Аэробус (Aerobus), a support band similar to Ars, accompanying the performances of the Russian singer Yuri Antonov. Again, Vadim worked for a very short time there. According to the recollection of his family, a sudden stop in his Moscow career was either creative or a personal conflict between Antonov and Lashuk.
By the end of 1985 Vadim returns back to Kiev and decides to establish his own independent project — this is when the Display band is born. This very year Vadim produces Display's first reel album — Волна перемен (The Wave Of Change), still being properly unreleased. Based in his tiny Kiev home studio which he built over the years, Vadim mixes down everything on a multi-track Teac tape machine while playing all the instruments as well as recording vocals by himself. Somehow the copy of the album reaches Moscow and immediately becomes a success among soviet tape community — multiple instances of it being bootlegged ever since.
A vivid mixture of disco, funk, pop- and art-rock, The Wave Of Change can be considered today as Display's debut masterpiece. Despite its obvious home-studio production, it stands up to the highest quality standards of that time, exhibiting Vadim's talent and immense creative energy in terms of skillful arrangements backed up with his high trained multi-instrumentalist experience. Tightly packed with hits, this album included not only the vocal version of Robot we are presenting today but also the very first version of another prominent bestseller: Ночь (The Night) — a song so popular that nearly every disco party of the soviet 80's was incomplete without it. Its multiple vocal versions were later performed by Ukrainian diva Sophia Rotaru and Lithuanian female vocalist Danutė Buklerevičiūtė and released appropriately on Melodiya's records and compilations.
In 1986 Display was expanded from Vadim's solo project into duo when his wife Helena Barvinska joined it, replacing Vadim on bass while he focused on arrangements and composition. In order to spice up the updated project with an exotic western flavor, her stage name was changed to Ellen Kreis — a promotional move pretty common for many soviet bands of that time. For some reason foreign aliases of the soviet musicians were perceived by the local listener as cooler ones as opposed to the usual names of their peers. A series of videos for selected Display songs intended for Ukrainian TV were also made this year, filmed mostly in Kiev, as it can be seen in Robot video, kindly provided to us by Helena from her personal archives. The forthcoming Display's live shows were supported with session musicians Vitaliy Angelis, Alexandr Yegorov and Alexandr Pankratyev.
Except participating in a couple of notable concerts and festivals, held in 1986-1987 in Kiev and Moscow («Дебют», «Золотой камертон»), Display eventually did not have that many live performances or tours — most of the time it remained as Vadim's studio project. Its music, however, had huge success on soviet television — it was frequently used in various commercials and TV shows, perhaps the most memorable to be found in archives today is the 1989 soviet aerobics with gymnast Svetlana Rozhnova [12].
In 1987 Vadim becomes a director of Crimea-based folk ensemble ВІА «Червона рута» (Chervona Ruta) [13]. It is unclear for how long did he work there — another story covered in mystery. Initially an accompanying band for the performances of Ukrainian superstar of Moldova origin Sophia Rotaru, the collective was experiencing a creative crisis of that time [14]. Some of its members wanted to make money going pop in Moscow while others tended toward continuing playing folk in Yalta, Crimea. By the end of the 80's Sophia Rotaru apparently took the Moscow direction and left the group. Staying presumably in friendly connection with Sophia back then, Vadim provides the above mentioned The Night and another slow-tempo synth-pop hit Океан (Ocean) for her 1987 LP [8]. Interesting that Display is not credited on a sleeve notes directly, instead it is noted on a record as a "Group of V. Lashuk".
In 1988 the soviet music monopolist label Melodiya reached out Display and offered them a record deal. We have discovered an interesting document of that era (warning: high traffic!) [1] [2] which we are hosting on our website for historical purposes. It is an article from a now defunct Ukrainian local newspaper Молода Гвардія (Young Guards) dated 1 august of 1990 and dedicated to the cassette release of Vadim's third and last album called Nessie. It also uncovers some details of the previous Display LP release on Melodiya. In short, the whole thing could not have been published at all. According to the article, after Melodiya's request Vadim promptly compiled his best works up to date, hired an illustrator to do the artwork and submitted everything to the label in spring of 1988. After one year of waiting nothing happened. One of the possible reasons for such a delay could be an absence of a formal studio approval and missing sound engineer credits — as an artist you were allowed only to record in government authorized studios. Recording at home, even on a high quality equipment was considered as nearly illegal, underground activity. But Vadim, despite making everything at home, had this sorted out before submitting his material. In the end it turned out that the cover artwork was missing. At the first time everyone thought that it was lost during transit until it was discovered behind a wardrobe in one of Melodiya's multiple recording facilities (someone obviously had a party there). Eventually Display's debut self-titled LP (sometimes called Challenger after its hit song) was released on Melodiya in 1989, although some its versions [3] state the 1988 as a release date.
Probably millions of Display's self-titled LP were pressed until 1990, as copies of it can still be found really cheap all around ex-soviet flea markets. Vadim, instead, did not see any millions in terms of fees: after such a stressful release affair, having lost enough of his time and personal investments, he cuts his further collaboration with Melodiya. Besides, by the end of 1991 Soviet Union collapses along with its only record label. In 1990 Vadim attempts to re-release his older works, already released by Melodiya (Ocean, Challenger, etc.) together with a bunch of new ones as a compilation-album on a couple of newly formed independent Ukrainian labels (both defunct now) — Фонограф (Phonograph) [4] and Аудіо Україна (Audio Ukraine) [5]. His new album titled Nessie [6] is as mysterious as its fabled Scottish creature — it seems that it has never been published in the end. It was planned to be released in two versions: as a cassette on Phonograph — a sub-division of Young Guards newspaper (the album cover was printed on one of its pages, while you had to mailorder the tape) and as a vinyl record on Audio Ukraine — established in 1991, this label focused mostly on young and promising Ukrainian artists. But for some reason this album never went public. While locating of physical copies of the cassette is not a trivial task (still theoretically possible though), the vinyl version seems not to exist at all. Rumors say that Audio Ukraine cancelled the release of the Nessie LP for unknown reasons [7].
The fame of Display fades as the turbulent 90's move on. Seeing no future in the post-soviet music scene for himself, Vadim takes a fateful decision to leave Ukraine and together with his family he relocates to Poland. Further events in his life take a dramatic, if not a tragic, turn. Within recollection of his family, Vadim struggles there creatively and financially. Being not only a talented musician but also a good technician, Vadim tries to set up a business selling some decent-made DIY guitar amp kits and guitars for a living, but it was nearly impossible to compete with the established brands. He also tries to adapt some of his older Display hits to the local polish euro-pop boy-bands but the results were pretty cheesy and turned out to be a flop commercially. By the end of 90's Vadim was diagnosed with cancer. Due to the stress fueled with a constant fight against poverty the disease progressed very rapidly and in 1999 Vadim dies. He is buried in Szczecin, Poland, while his family still live there [7].
So what is left of Display's recorded works? We have already mentioned that at least three studio albums seem to exist: The Wave of Change, Display self-titled LP and Nessie. The only one available and released legally so far is Display s/t LP on Melodiya, while other ones used to be reel albums. However locating the master tapes and finding any proper release material proved to be a nearly impossible task. On a mission to find some truth about them we we have collaborated with Valeriy Logvin from Display's fan community on vk.com [7], who is doing a great job meticulously collecting all the information referred to Display and stays in contact with Vadim's family. He was also was very helpful in tape digitizing as well as sharing the above mentioned newspaper scan from Young Guardians.
In 2017 we met the artist's family in Kiev and with the help of Vadim's niece, Valeria Kamelkova found out that there are some reels left in the attic of his mother's house. A lot of recorded material was to be found there indeed, however none of the sought after albums in its full extent could be retrieved. What we discovered instead was a handful of tracks scattered all around various reels presumably prepared for publishing. Some tapes had multiple variations of one song (e.g. at least 10 versions of The Night) while others were demos, instrumentals, TV commercials, jingles and field recordings made mostly in Vadim's home studio. Despite the tapes were stored in a non-heated environment, their quality did not deteriorate that much, nevertheless they all sound quite different from one another. Thus resurrecting of The Wave Of Change album in its full quality will be a painstaking one and will probably require years. Regarding Nessie, its resurrection would be more challenging, since some tracks are still completely missing and it is unknown what kind of tracklist would be a correct one following the artist's initial vision. We have also contacted Ellen Kreis, who is currently living in Poland, if she had any recorded material left but with no success. Instead Ellen provided us with some video material from her personal archives, and we have extracted a Robot movie clip for the public [8].
Fortunately Robot was one of the best song in terms of preserved quality and a real discovery in the attic. Another pleasant surprise to be found there was its cute instrumental — recorded in slightly faster tempo, more a dub version rather than the background of the vocal version, this track was produced by Vadim as a part of the score to the sociopolitical drama movie Случай из газетной практики (A Newspaper Case) from 1987 made by Dovzhenko Film Studios [9]. The Robot instrumental was not included in the final movie though. We have managed to check and listen to the complete soundtrack provided by our friends at Dovzhenko Film Studios, and it is true that this track was planned for certain scenes but was never featured in the final film. With the help of Valeriy Logvin we have digitized both versions in Kiev last year and forwarded them for pre-mastering by Martin Bowes of Attrition and careful final mastering by Anders Peterson at GS Mastering & Post. So here it is — Robot, a funky, vocoder-spiced electronic tune from 1985, capturing the cheerful and optimistic energy of the Display band on vinyl.
Maxim Løy
December 2018
Dresden, Germany.
www.baranrecords.com